Every day, you probably walk or drive past some type of public art in your town or city. It might be a monumental sculpture in a public park. Maybe it's a large, colorful mural that adorns the facade of an otherwise plain building. It might be intricate landscape architecture or a touching bronze memorial that serves as the centerpiece of a public space where visitors gather. Whatever the form, those art displays you pass by do more than just beautify civic spaces. They are valuable assets that enrich your community in a variety of ways.
In many cases, public art creations become renowned landmarks (the Statue of Liberty, the St. Louis Arch, Cloud Gate – also nicknamed "The Bean" — in Chicago), offering a community an identity, a uniqueness. The first image that usually comes to mind when thinking of Paris, France, is the Eiffel Tower, one of the world's most famous examples of public art. These public sculptures instill a sense of pride and create a connection – not only with the art, but among community members.
Matthew Placzek's Labor Monument (pictured below) is a striking example of impactful public art. Located at the historic Lewis and Clark Landing in Omaha, Nebraska, this bronze sculpture exemplifies the dignity and dedication of the American work force.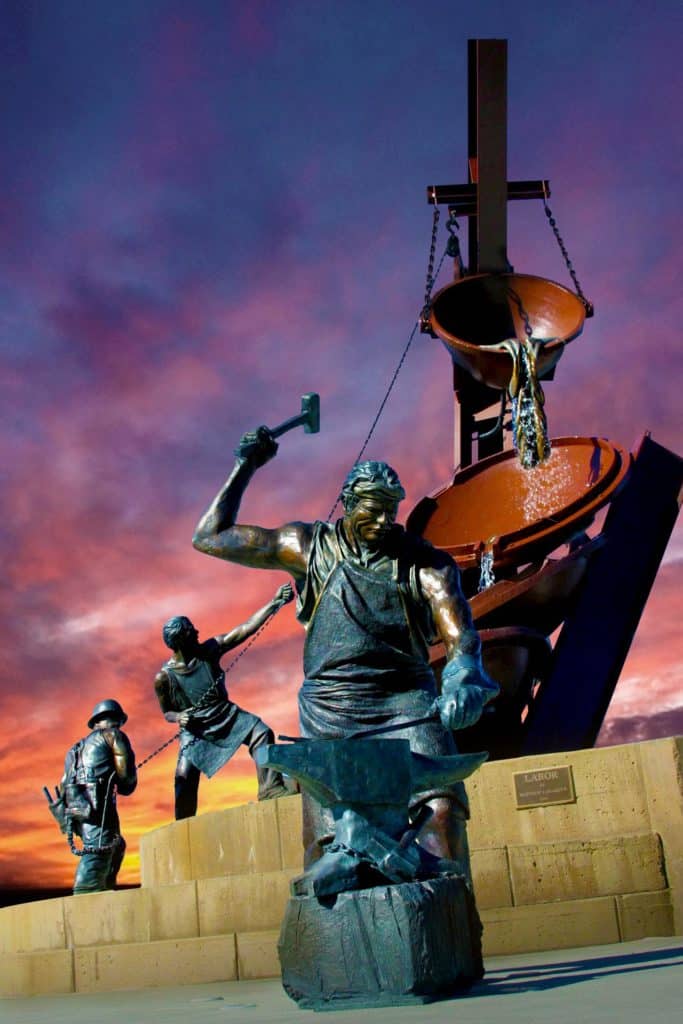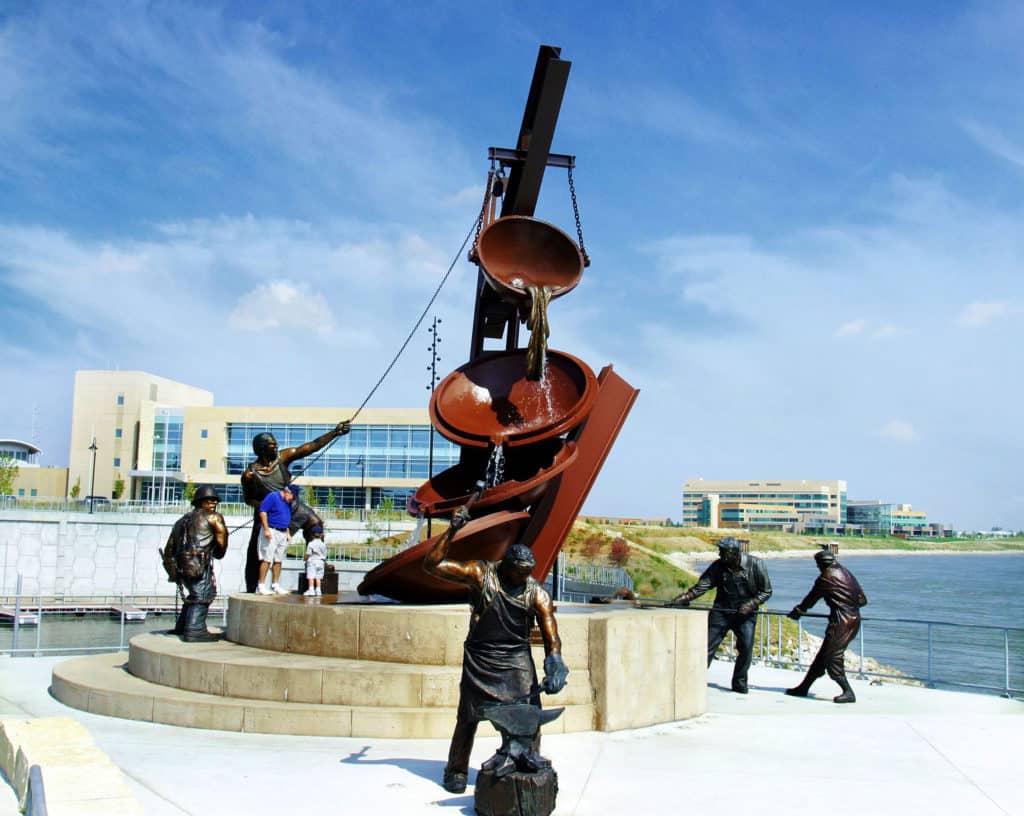 In subtle but significant ways, artistic creations serve as visual educational resources. For example, monumental sculptures that illustrate historical events or pay tribute to community leaders, teach viewers about the history of a place. They provide a vital connection between the past and the present.
Four of Matthew's monumental sculptures – all carrying historical significance – can be found on the East Campus of the University of Nebraska-Lincoln. These sculptures pay tribute to Nebraskans who have served as U.S. Secretaries of Agriculture, including Clifford Hardin, Clayton Yeutter, Mike Johanns, and Arbor Day founder J. Sterling Morton (pictured below, top). Another of Matthew's historical monumental sculptures is located at the University of Nebraska Omaha. The bronze likeness of Dr. John W. Lucas, founding dean of the university's College of Business Administration, can be found on campus outside of Mammel Hall (pictured below).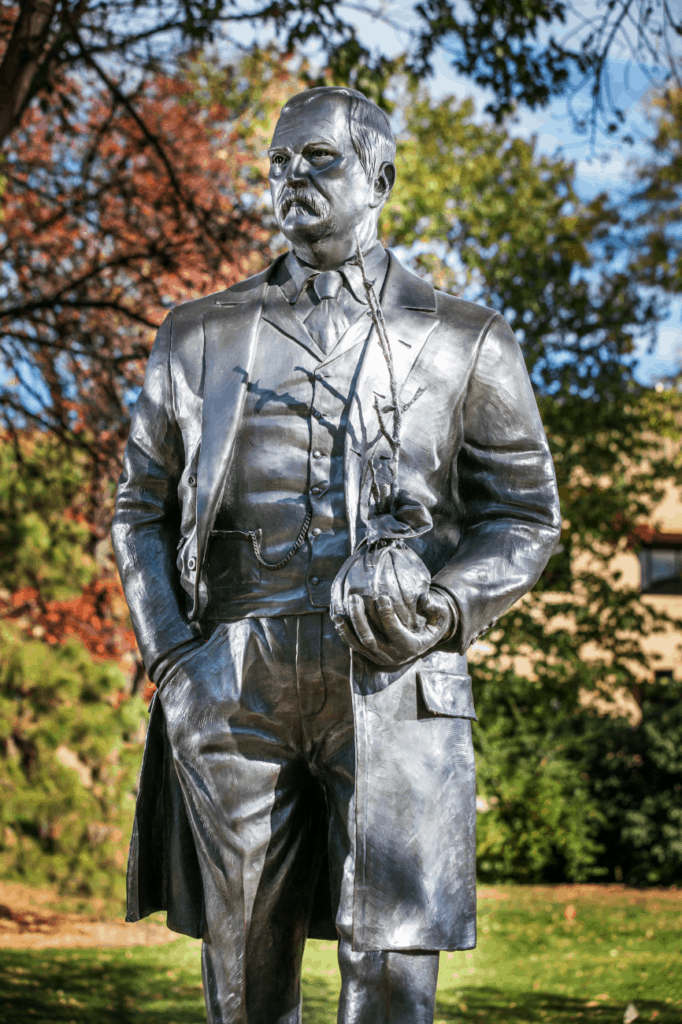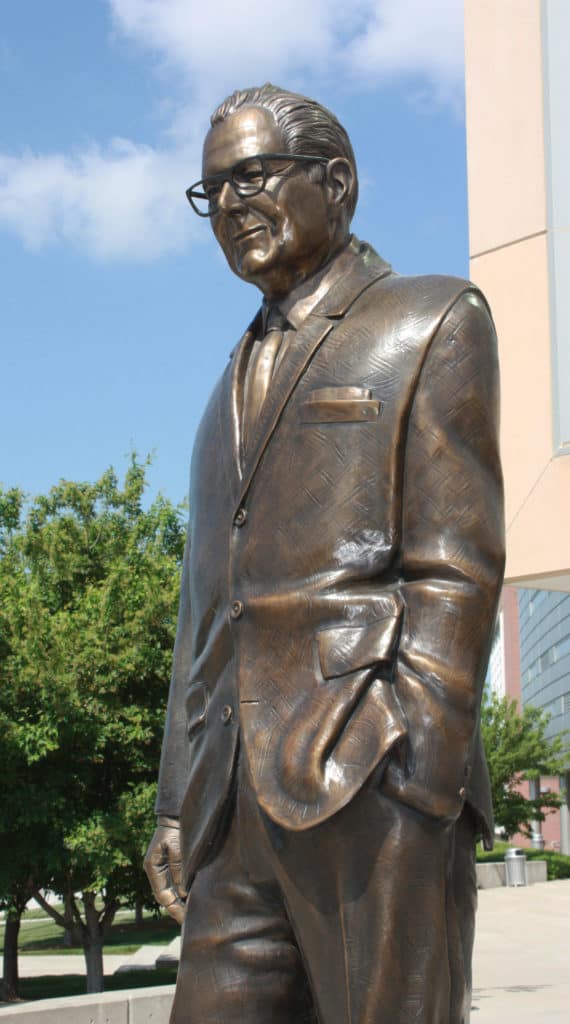 Public art can be a powerful vehicle that promotes cultural understanding by illustrating a variety of perspectives and histories. Through artistic expressions, diverse groups of people learn about each other – their traditions, their heroes, their victories, their struggles. The result is often a new-found understanding for, and acceptance of, different cultures. Bridges are built between people, which in turn feeds into the growth and vitality of a community.
A municipality's economic growth can be greatly influenced by monumental art displayed in civic spaces. The magnetism of public art enhances the atmosphere of a locality, and in turn, that community becomes more desirable as a place in which to live, visit, and do business. In addition, welcoming permanent or temporary public art installations encourages tourism, which boosts hotel, retail, and restaurant revenues. These art installations are free and accessible to everyone – another great bonus.
A great example of electrifying public art can be found in Matthew's multi-faceted sculpture, Illumina (pictured below), which has been delighting visitors at the CHI Health Center Omaha since 2004. An imaginative and colorful cast of lifelike bronze street performers – musicians, a juggler, a mime – creates a vibrant atmosphere at the entrance to the event center. Anchored by a magnificent, illuminated 35-foot stainless steel clock, Illumina elegantly symbolizes the arts and humanities events that take place at the venue. Inside the lobby, visitors are treated to a sculpture of spheres that produces a dazzling, ever-changing light show each evening. Interactive art – art that can be touched or walked through/around – allows the viewing experience to become more personal and meaningful. Illumina exemplifies interactive art at its finest.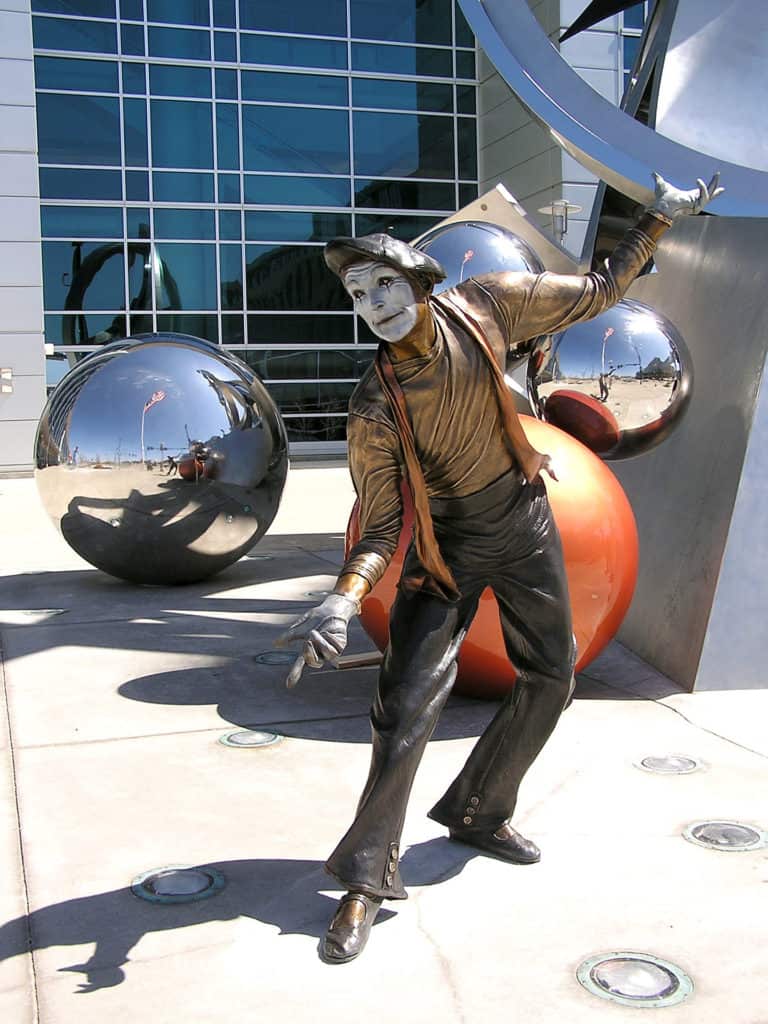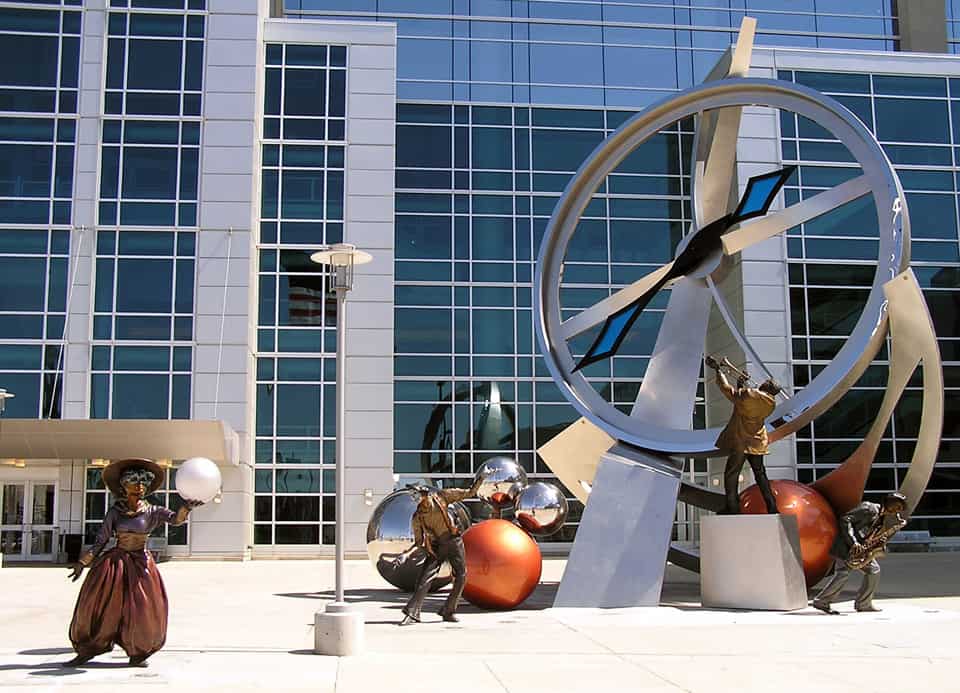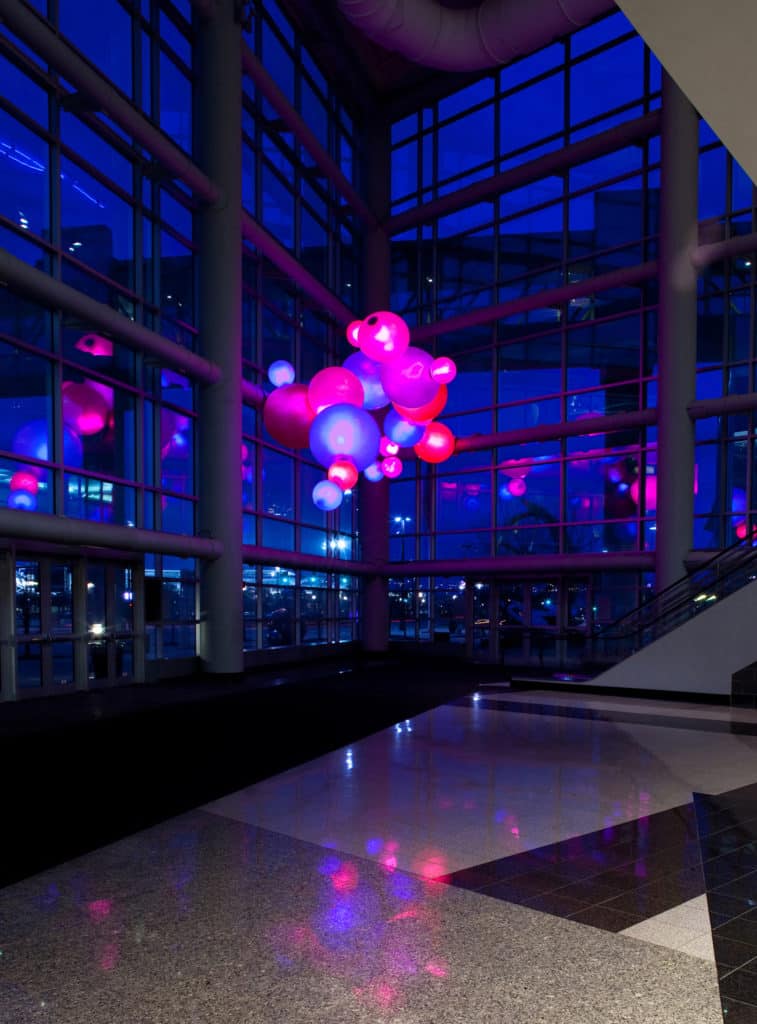 Another stunning artistic achievement by Matthew is the interactive Alaskan Adventure, located at Omaha's Henry Doorly Zoo and Aquarium. This 18,625 square-foot water park is the zoo's epicenter for fun and refreshing relief on hot, humid summer days. Alaskan Adventure (pictured below) features 80 life-sized sculptures of Alaskan wildlife, including bears, puffins and sea lions. The park's centerpiece is a blue-patinaed 25-foot-tall humpback whale breaching majestically through the air.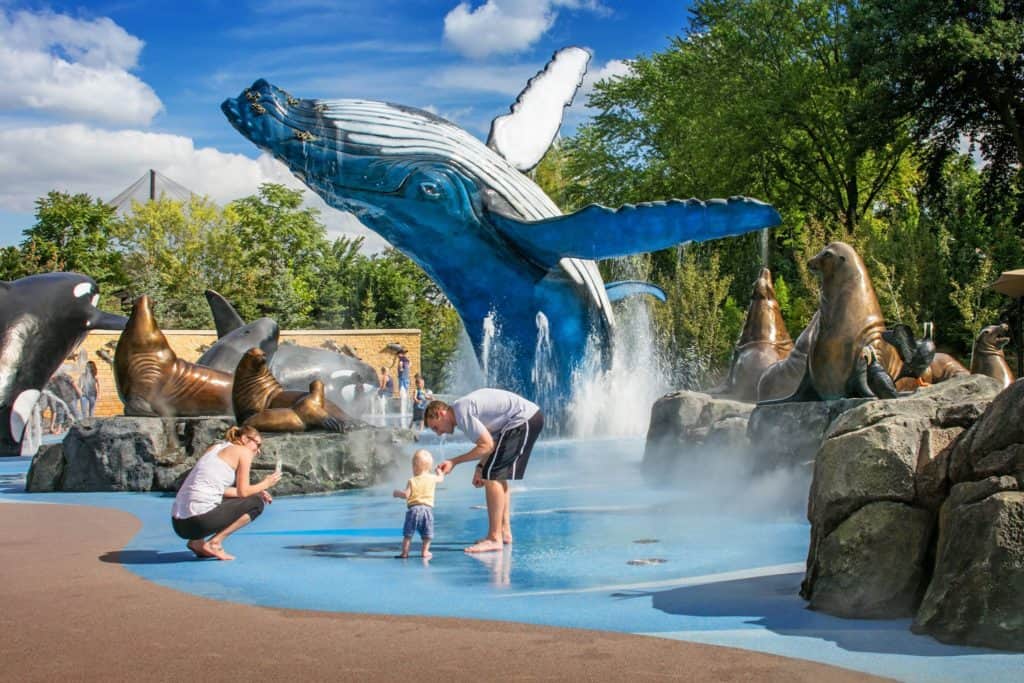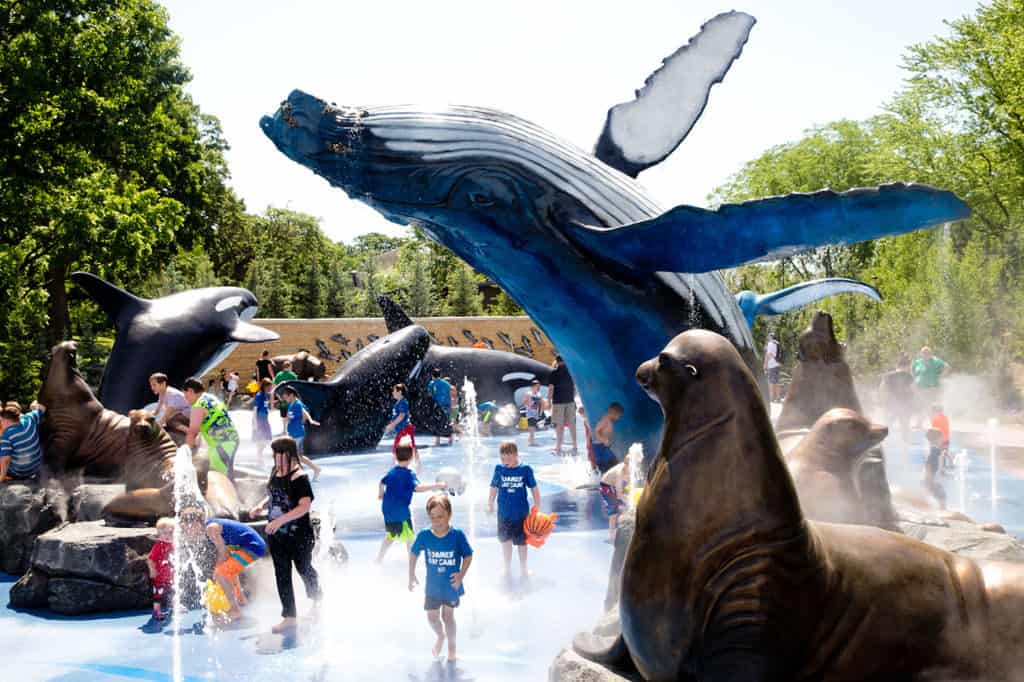 Public art has been found to have a positive impact on community members' emotional and physical well-being. Numerous studies over the years have shown that the reflective properties of art can reduce stress by exuding beauty, calm and peacefulness. Healing gardens, found in medical centers or in open public spaces, often feature monumental bronze sculptures with graceful lines, soothing color palettes and gently flowing water features. These beautifully landscaped places, accentuated by elegant art pieces, serve as quiet havens of rest and hope for all who visit.
Two of Matthew's artistic creations which exemplify this type of healing art, are located at the University of Nebraska Medical Center's Fred and Pamela Buffett Cancer Center. Spring Sonata – Iris Garden (pictured below, top), is a 28-foot-wide painted metal, acrylic and LED-lit sculpture that provides a soothing presence in the center's public dining room. Colors of the Prairie (below, bottom), adorns the wall of the center's conference room. This colorful sculpture features five LED-backlit butterflies made of stainless steel and acrylic, as well as aluminum blades of native grasses that depict the changing seasons.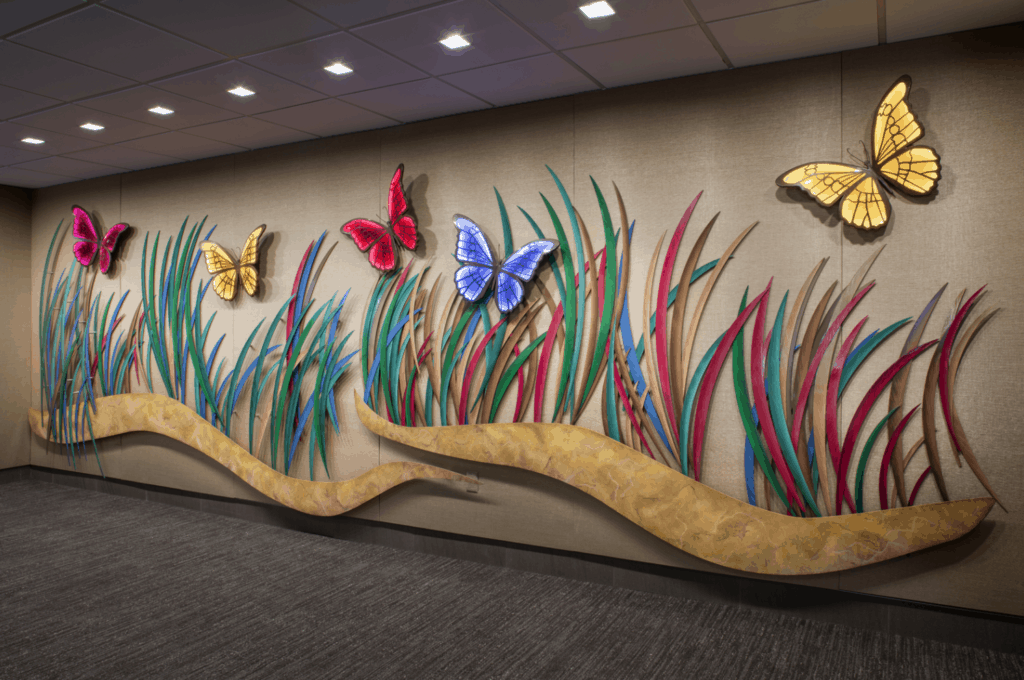 Always looking for unusual and creative ways to display his art, Matthew created Canyon Reflection (pictured below), a dynamic, ceiling-suspended sculpture installed in the atrium of the Kirtland Air Force Base Medical Center in Albuquerque, New Mexico. The 45-foot-tall by 20-foot-wide creation features several eight- to twelve-foot-tall acrylic panels, each weighing from 40 to 50 pounds. The panels are reminiscent of carved canyons, fluffy clouds and spiky yucca plants. Inspired by the Rio Grande, Matthew added long aluminum ribbons in tones of blues, greens and indigo, winding gracefully between the panels. Completing the artwork are stainless-steel eagles, polished to a mirrored finish and appearing to soar above and around the river. Canyon Reflection is a unique, breathtaking addition to the center's public space.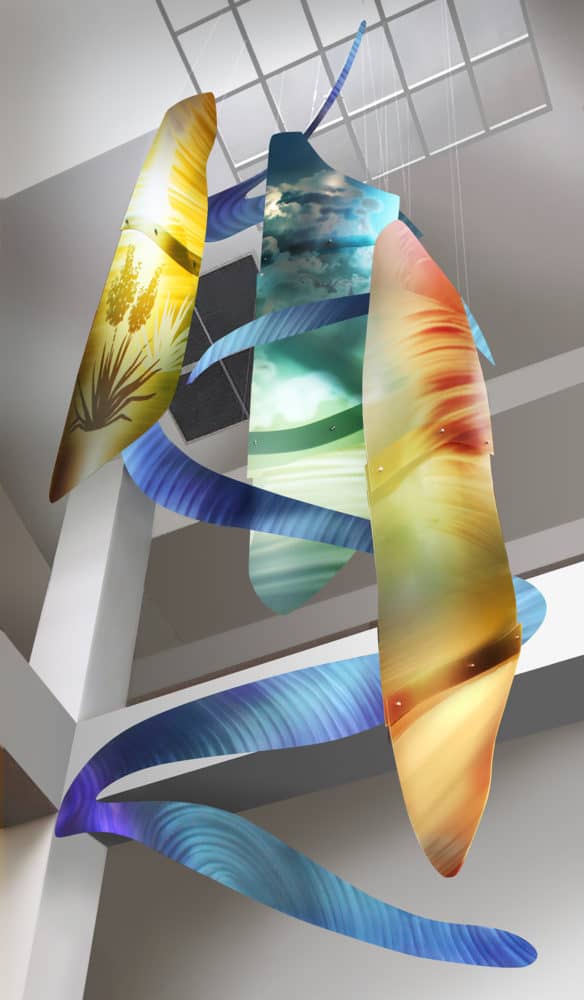 The benefits of investing in public art are indisputable, adding beauty, history and great economic value to communities. Art brings people together and creates landmarks that will be enjoyed for generations to come. No matter the medium – bronze sculptures, paintings, etc. — these works are treasures to be enjoyed, shared, and appreciated.