Acrylic Butterfly Sculpture
Inspiration Gardens
Butterflies are deep and powerful representations of life. Many cultures associate the butterfly with our souls. Around the world, people view the butterfly as representing endurance, change, hope, and life. The butterfly makes important appearances on the stage of human beliefs and understanding. Interestingly, in many cultures, the butterfly is associated with the soul, further linking our meaning of faith with the butterfly. Butterflies are often used in inspiration gardens, healing gardens and make for a great addition to designed landscaping. Below are some of the sculptures that we have done that include our famous butterfly.
Harmony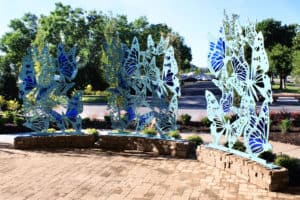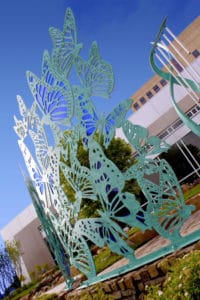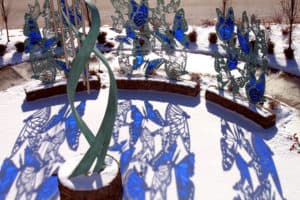 2013
14 Foot High
Stainless Steel
Immanuel Medical Center – Omaha, Nebraska
Inspiration garden is a symphony of the healing of body, mind and spirit.  A 14 ft chime is the centerpiece to this place of quiet reflection.  Each of the stainless steel chimes creates a beautiful, soothing sound in the cool breeze of the garden.  Hope, renewal and rejuvenation are beautifully symbolized in the butterfly screen sculptures.  The green- patina sculptures feature acrylic panels, which glisten in the sunlight.
Metamorphasis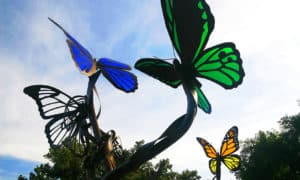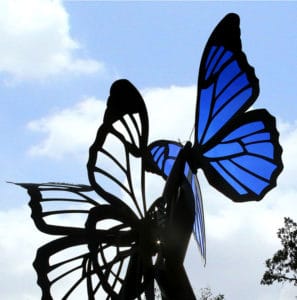 2007
18 Foot High
15 Foot Wide Painted Aluminum
Henry Doorly Zoo – Omaha, Nebraska
"Metamorphosis" depicts the life cycle of a butterfly in a sensitive, kinetic manner. The acrylic panels of this 18-foot tall sculpture glisten in the sunlight, becoming a focal point of the Henry Doorly Zoo's Butterfly Pavilion.
Tranquility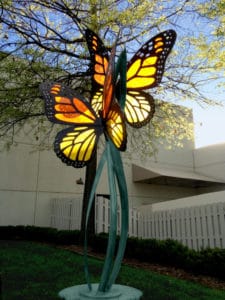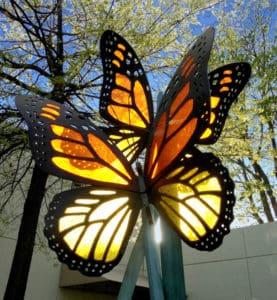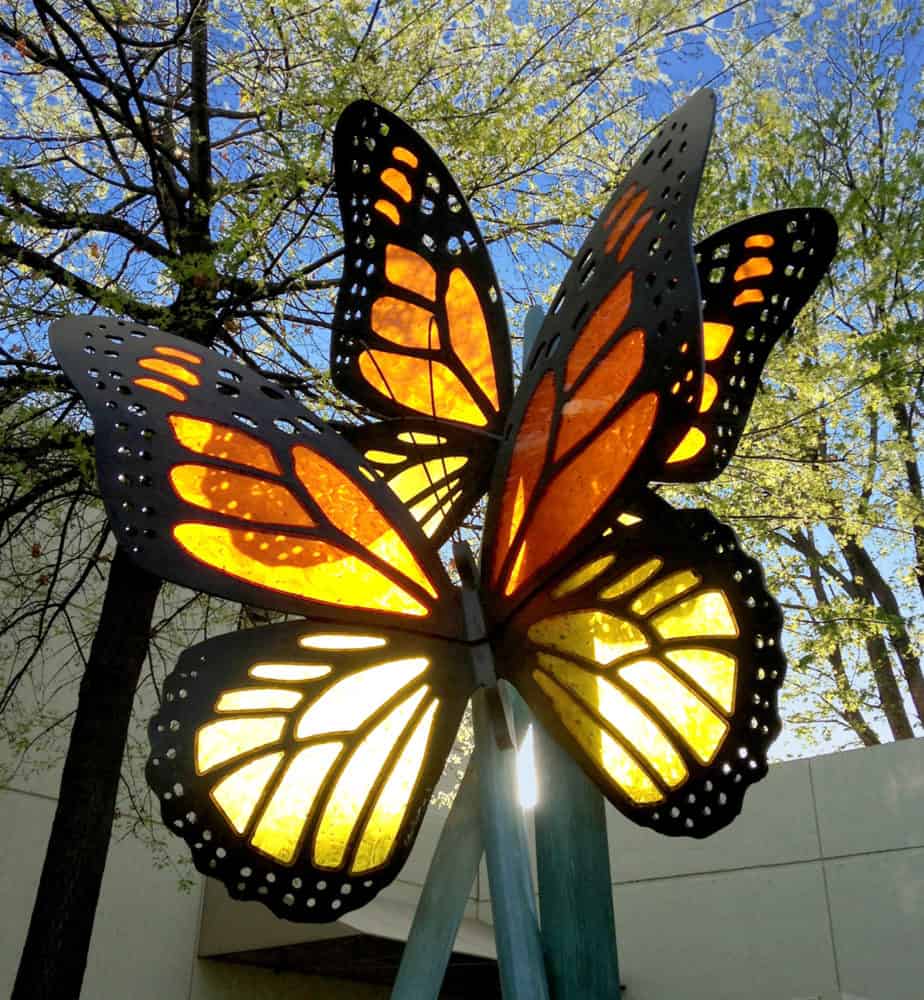 2014
14-Foot
Stainless Steel and Acrylic
Private Collection
Life's beautiful journey is symbolized with the sensitive butterfly images in the sculpture "Tranquility". The
14-foot-high stainless steel and acrylic sculpture is a symbol of renewal, reflection and a celebration of spiritual wellness. Each hand-etched acrylic butterfly glistens in the sunlight to create a sense of healing and spiritual connection. butterfly glistens in the sunlight to create a sense of healing and spiritual connection.
Tanscending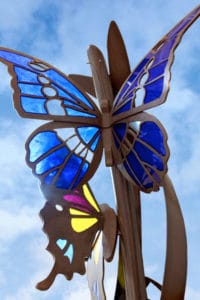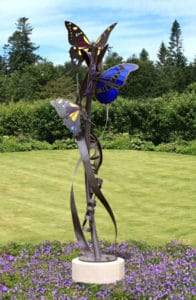 2012
9 feet tall
Stainless Steel and Acrylic
Private Collection